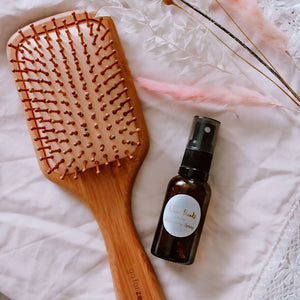 Liam Blends
Eco Hair Care Combo
Regular price
$16.34
$0.00
Unit price
per
A Eco friendly Hair care combo featuring our well loved Ebony Detangling Spray in a 30ml travel size & Go For Zero's Natural Bamboo Hair Brush. 
Ebony Detangling Spray:
A Natural hair detangling spray, suitable for all hair types. Contains Tea Tree oil, making it a great preventative measure for head lice. Along with Hawaiian Sandalwood to keep your locks shining & healthy. 
100% Natural ingredients used
Vegan Friendly
Contains: Fractionated Coconut oil, Rosemary, Lavender, Hawaiian Sandalwood & Tea Tree essential oil & distilled water.
Natural Bamboo Hair Brush:
The Bamboo Hair Brush is a durable and beautiful alternative to mainstream plastic hairbrushes. The bamboo handle and bristles are lightweight, strong and biodegradable.
Caution: Please keep out of reach of Children, avoid contact with eyes and other sensitive areas.
Please Note: I am not a medical practitioner, Please seek advice from your general practitioner before use. For our Skincare/Bath products we recommend doing a patch test before commencing use
---