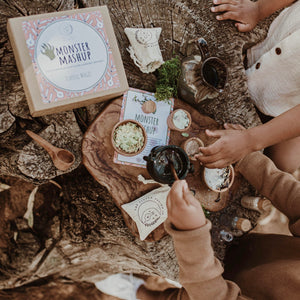 The Little Potion Co
Monster Mashup Kit
Regular price
$40.46
$0.00
Unit price
per
 MYTHS AND LEGENDARY CREATURES
All across the world, legends of monsters and mythical creatures have filled the pages of storybooks for centuries. Some legends are based on real creatures and some come from our imaginations.
Watch your legendary creatures come to life with this legendary monster inspired potion play kit. Create your own mythical stories with ingredients inspired by werewolves, vampires, ogres and monsters from the deep. 
Ingredients List: Salt, citric acid, bicarb, essential oils, mica, bio glitter, dried flowers, lavender, dried herbs, food dyes, clay, star anise, cinnamon, linseeds, sunflower seeds
POTION KIT - comes with:
• 3 x dry ingredients in cotton pouches.
• 1 x dry Ingredient in reusable PET plastic bottles with bamboo screw cap
• 2 x sparkly liquids in reusable PET plastic bottles with bamboo screw cap.
• 1 x ingredients index card.
The Little Potion Co kits offer magical ingredients for crafting potions, with nature based ingredients and a mindfulness approach. Our potion kits create positive magical experiences and promote imaginative play, setting little potion makers on a path of natural discovery.
play accessories sold separately
IMPORTANT: We encourage adult supervision while playing with this kit, helping children to find the answers they are seeking. These kits are recommended for ages 5+, with the younger ones requiring adult help with reading and understanding. This kit contains small parts which may be a choking hazard for kids under the age of 3. Please take care around small children. 
All ingredients are environmentally friendly and non-toxic, though we don't recommend eating any of them. Our potions are not for consumption. 
Avoid contact with eyes. May irritate small cuts or scratches on skin. If contact occurs, immediately rinse with cool running water.
photo & description provided by The Little Potion Co
---