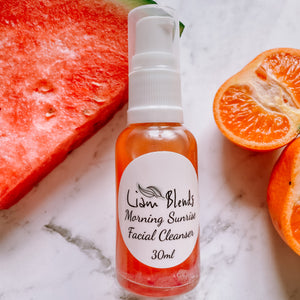 Liam Blends
Morning Sunrise Facial Cleanser
Regular price
$8.10
$0.00
Unit price
per
A gentle, oil based cleanser to rejuvenate and revitalize your skin. 
Infused with Invigorating, Citrus Essential Oils & refreshing Watermelon infused water. 
Contains calming Aloe Vera Gel to cleanse your face, removing excess grease and unclogging your pores.
Ingredients: Watermelon Infused Water, Grapeseed Oil, Watermelon Seed Oil, Golden Jojoba Oil, Aloe Vera Gel & Essential Oils Rose, Lime & Tangerine.
Caution: Please keep out of reach of Children, avoid contact with eyes and other sensitive areas.
Please Note: I am not a medical practitioner, Please seek advice from your general practitioner before use. For our Skincare/Bath products we recommend doing a patch test before commencing use.
---