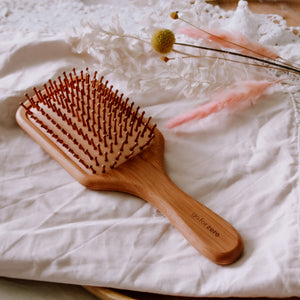 Go For Zero
Natural Bamboo Hair Brush
Regular price
$13.46
$0.00
Unit price
per
LIGHT TO HANDLE | SUSTAINABLE | REDUCE WASTE | BAMBOO HANDLE & BRISTLES
This Bamboo Hair Brush is a durable and beautiful alternative to mainstream plastic hairbrushes. The bamboo handle and bristles are lightweight, strong and biodegradable.
Bamboo is:
the fastest growing plant in the world (some species grow more than three feet each day)
is stronger, lighter, more durable and water-resistant than wood alternatives
is naturally biodegradable (and eco-friendly)
does not require any pesticides or herbicides
uses less water and produces 35x more oxygen
regrows after harvesting
is naturally anti-bacterial
has a smaller carbon footprint than cutting wood
Did we mention they look super stylish in your bathroom?!
Pair this brush with our Ebony Detangling Spray for the Ultimate Hair Care Gift Set.
Designed and Owned, with♡, in Australia. Made responsibly in China.
Description adapted from Go For Zero
---