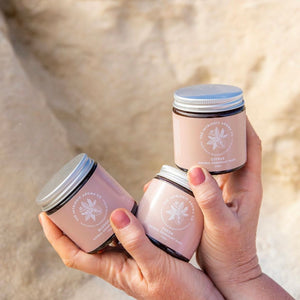 The Intrinsic Aroma Co
Natural Deodorant Paste
Regular price
$9.34
$0.00
Unit price
per
Natural deodorant paste that works to keep you smelling fresh all day!
These deodorants allow the natural process of toxin elimination without the body odour. You can feel confident even after exercise that your underarms will be odour free.
Only using natural organic ingredients that are 100% plant based. These deodorants are moisturising and contain the antibacterial properties of essential oils.
Why use a natural deodorant? Conventional store bought deodorant will often contain aluminium, triclosan, phthalates and many other toxicants. Studies surrounding these ingredients have shown many safety issues linked to disruption of thyroid function, altering of hormones, diabetes, obesity, cancer and more. We don't think it's worth the risk, do you? Make the switch today.
Available in 6 different scents, including 3 sensitive scents (Bi-Carb Free) 
Lush
Sweet
Citrus
Nada Sensitive 
Zest Sensitive 
Blossom Sensitive 
Made In SA. Comes in a 60gm Jar
Please note: this product is heat sensitive and may melt during high temperatures. If this occurs, please refridgerate to restore.
Photos & Description provided by The Intrinsic Aroma Co
---